The Annual Tae E. Lee Cup Taekwondo Championship is a celebration marking the anniversary of Grandmaster Lee's school opening in Ottawa.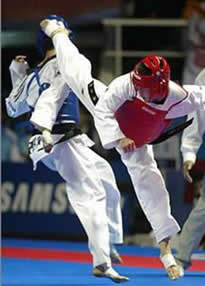 Since 1997, the Mayor of Ottawa has proclaimed May 31st of each year as TAE EUN LEE DAY in the City of Ottawa. This honour is in recognition and appreciation for Grandmaster Lee's numerous contributions to the Ottawa-Carleton community, including his philanthropic works with the Canadian Special Needs Taekwondo Federation (which he founded) as well as his charitable contributions to several Ottawa organizations, such as the Ottawa Regional Cancer Foundation (ORCF) and The Children's Hospital of Eastern Ontario (CHEO).
Also, May 31 is often proclaimed as TAE EUN LEE DAY in the Province of Ontario!
The Tae E. Lee Cup Taekwondo Championship is usually held the last weekend of May each year. This is not an open-event – only branch schools affiliated with Grandmaster Lee may attend (Tae E. Lee Kanata Taekwondo qualifies!).
For more information about the Tae E. Lee Cup and Tae E. Lee Day, please visit the official Tae E. Lee web site.